A lot of news, developments, and action took place during two days of IMSA WeatherTech SportsCar Championship testing at Daytona last week. Here's a quick rundown of the major items of interest:
• Talk about awkward Thanksgiving dinner table conversations. Corvette Racing crew chief Dan Binks was the proudest father on pit lane when his son Phil arrived at Le Mans as a mechanic with the Nissan LMP1 team in June. RACER did a story on the father-son combo at the time, and with Phil's recent move to the Ford Chip Ganassi Racing team, the pride has certainly increased, but with the new Chevy-vs-Ford dynamic in mind, father and son have now become archrivals in IMSA's GT Le Mans category (LEFT, Marshall Pruett photo).
"It's so great for him, and he's come so far," said the elder Binks. "It's great seeing my boy get hired by a team like Ganassi, but we can't exactly talk shop anymore..."
Phil was back at CGR's shop during the test, but it didn't stop his father – or other members of the Corvette team – from prodding the lad. "He's worked with us in the past at Corvette Racing, so he's like a little brother to a lot of the guys here, and we couldn't be more proud of him." Binks was barely able to finish his sentence before one of the Corvette mechanics warmly added, "And we can't wait to kick his ass..."
• CORE autosport tested a new, softer rain tire from Continental on its ORECA FLM09-Chevrolet PC car, and from the team's feedback, more work will go into a new tire for the Rolex 24 at Daytona. The tire tested by CORE was said to be too soft, and did not evacuate as much water as was hoped during the bouts of hard rain that fell during the test. It's believed the revised Daytona rain tire will only be made available to PC and P2 teams, which has led to an appreciable level of grumpiness in the Daytona Prototype camp. A new, post-Daytona rain tire is expected for PC, P2, and DP.
• The purpose for the Daytona test was to give IMSA a chance to benchmark performance levels for all of its cars, to try various Balance of Performance adjustments to gauge the lap time increase or decrease, and to evaluate the separation in speeds between the four classes. The first item is the one that drew more attention than any other as some (but not all) teams pushed hard during the test, while others left a bit of performance on the table. The most fun part was listening to teams that claimed to run at 100 percent, and then declare they knew their rivals were holding back. The team in the next garage would say the same thing, etc., creating a lovely scenario where seemingly everybody was running flat out and sandbagging...
• Continuing the tire theme, Michelin made one set of its buttery-soft tires to its GTLM teams to run for the first time at Daytona. The "low energy" Michelins were introduced mid-season, and offer a significant reduction in lap time. With IMSA heavily monitoring lap times for BoP purposes, BMW Team RLL, Corvette Racing, and Ford Chip Ganassi Racing alerted the series when the low-energy sets were used to help IMSA account for the change in speeds.
• Timing and scoring information was kept private by the series during the test.
• Sean Rayhall was on hand to try the DeltaWing DWC13 and got up to speed quickly.
---
• BMW Team RLL and Turner Motorsport made full use of the test to find speed and weaknesses in the GT Daytona and GT Le Mans versions of BMW's new twin-turbo V8 M6. Although the big BMWs were challenged for outright pace, the November test served its purpose as both programs worked through issues ahead of January's Roar Before the 24.
On the GTLM side, the converted-from-GT3 M6 persevered through axle issues and, based purely on listening from trackside, it struggled in the electronics department when powering out of slower corners. Plenty of sound was happening as traction control and boost control efforts were working furiously, but not a lot of forward movement took place on hard throttle applications. Given the massive number of BMW engineers on site for the test, I'm sure solutions will be implemented before the car returns for the Roar.
• Too many race-winning drivers were sitting idle at the test. Spencer Pumpelly, Damien Faulkner, Dion von Moltke, and Stefan Wilson were among the painfully unemployed at Daytona.
• Audi Sport's presence at the upcoming Rolex 24 at Daytona will be interesting, thanks to its relaxed policy of letting factory drivers sign with other teams. Filipe Albuquerque (Action Express Racing), Marcel Fassler and Mike Rockenfeller (Corvette Racing) are among the known LMP1 or DTM drivers who'll race at Daytona, and with up to four Audi R8s expected for the GTD class, more factory talent could be added to the list.
• Ford finally confirmed its full-time drivers for IMSA, leaving its IMSA endurance drivers and its full WEC lineup to be unveiled. Of the drivers at the test who weren't announced, Sebastien Bourdais, Marino Franchitti, and Olivier Pla were seen driving. One driver expected to be announced for the WEC roster was busy in Bahrain for the WEC finale.
• Chip Ganassi Racing is expected to field at least one Ford EcoBoost DP – and possible a second – to defend its overall win with its usual collection of IndyCar and NASCAR drivers.
• In addition to giving PC teams a new top gear ratio to reduce revs on the banking, teams are also expecting new camshafts to be in place for the opening race.
• Although unconfirmed, it's believed Aston Martin and Mercedes-AMG are unlikely to cover the financial agreement required for each manufacturer to have its cars compete in IMSA's WeatherTech Championship. TRG-AMR and the Mercedes-AMG test team were present at the test, but returns in January, at least at this stage, looks unlikely.
• Mazda's speedy new 4-cylinder gas turbo P2 engine was kept under wraps during the test (BELOW). The blankets will come off in January after the Japanese brand decides on a name for the 2.0-liter motor.
Action Express Racing has confirmed the complete driver lineup for the team's two entries in the 2016 IMSA WeatherTech SportsCar Championship. The team had announced the return of the four full-time drivers at Road America in August, and recently added Scott Pruett to the team for the Rolex 24 at Daytona and the Mobil 1 Twelve Hours of Sebring.
Filipe Albuquerque (RIGHT) will co-drive the No. 5 Mustang Sampling Chevrolet Corvette Daytona Prototype at with two-time and defending series champions Christian Fittipaldi and João Barbosa at Daytona, Sebring and Road Atlanta. The Portuguese sports car driver turned his first laps in the team's Corvette DP at the IMSA sanctioned test at Daytona International Speedway November 17-18.
IndyCar driver Simon Pagenaud will join Action Express Racing for the Rolex 24 at Daytona and the season finale at Petit Le Mans driving the red and white No. 31 Whelen Engineering Corvette DP with Dane Cameron and Eric Curran.
Also joining the Whelen Corvette DP lineup for the Rolex 24 at Daytona will be 2016 Sunoco Whelen Challenge winner Jonny Adam. The Scottish driver is an accomplished sports car driver throughout the United Kingdom and Europe, and added his name to the prestigious list of champions of the challenge: Derek Johnston, Ross Kaiser, Felipe Nasr, Ivan Bellarosa, Bradley Smith and Phil Keen.
As previously announced, Pruett will co-drive the No. 5 Mustang Sampling Corvette DP at Daytona with two-time and defending series champions Christian Fittipaldi and João Barbosa. Following Daytona, Pruett will then join Dane Cameron and Eric Curran in the No. 31 Whelen Engineering Corvette DP for the Twelve Hours of Sebring.
While Action Express Racing is excited about their 2016 lineup, team manager Gary Nelson and team owner Bob Johnson reflected on the drivers who helped make 2014 and 2015 such a great success.
"Sébastien Bourdais is a world-class driver and his contributions to Action Express Racing over the last two years were amazing," said team manager Gary Nelson. "He was a major part of our 2014 Rolex 24 at Daytona victory and this year helped snap a 50 year winless streak for Chevrolet in the Twelve Hours of Sebring, and again in the win at Road Atlanta which lead to the championship in the TUDOR Championship and the North American Endurance Cup. We can't thank Sébastien enough for his contributions over the last two years and we wish him all the best in his future endeavors."
"Max Papis was instrumental this season in helping us form a new full-time team," said Johnson. "His leadership on and off the track helped take the Whelen guys from the new guys to the lead guys. Even when the situation looked bleak at Daytona and Sebring, Max was the leader who inspired the entire Whelen team to keep fighting.
"By the end of the season we had two cars in position to win the championship and that's much attributed the efforts of both Max and Sébastien. I want to wish both guys the very best in whatever they do next, and they will always be an important part of the Action Express Racing family."
Tethering aerodynamic components of the Dallara DW12 chassis is among safety enhancements announced by IndyCar that will be implemented for the 2016 Verizon IndyCar Series season; a change that comes in the wake of Justin Wilson being fatally injured by a piece of flying bodywork at Pocono in August.
The high-tensile Zylon tethers minimize the possibility of components becoming detached from the race cars during accidents.
The rear beam wing and rear wheel guards will be tethered for all Verizon IndyCar Series events and the car's nose will be tethered on superspeedway ovals (1.5 miles or longer). Dallara also has designed a tethering system for the front wing main plane for the three superspeedways on the 2016 schedule - Indianapolis Motor Speedway, Texas Motor Speedway and Pocono Raceway.
Since 1999, Verizon IndyCar Series cars have employed wheel restraints attached to the chassis and suspension. The Suspension Wheel/Wing Energy Management System (SWEMS) also includes one or two restraints attached from the rear wing main plane to a secure location on the transmission.
"It is a continual goal to improve safety for all the participants, fans and drivers alike," said Will Phillips, IndyCar Vice President of Technology.

"We also need to do this in a fashion that does not create more yellow-flag racing and try to prevent as much debris as possible. We have great support from our partners to improve safety and wish to thank Chevrolet, Honda and Dallara for their participation and efforts in working together to implement change."
Other changes for the 2016 season as part of IndyCar's ongoing research and development to improve the on-track product and safety include:
A domed skid plate on the underside of the chassis, which improves its yaw/spin characteristics, will complement rear wing flaps that deploy at 90 degrees if a car spins and travels backward on a superspeedway. The package will minimize the incidence of the car becoming airborne. The rear wing flaps have been tested in wind tunnels at General Motors and Texas A&M University. Components are scheduled to be available for the April 6 test on the 2.5-mile Indianapolis Motor Speedway oval.


An update to the Engine Control Unit (ECU) prevents a car from moving forward during a pit stop if the gearbox is not in neutral while the fuel hose is attached. Through the ECU, the fuel probe activation sensor can stop the car from moving forward by returning the engine to idle and engaging the clutch if the car is not in neutral when the fuel probe is plugged in.


Another ECU update puts the engine in idle faster if too much pressure is applied to the throttle or brake pedal. The throttle pedal failsafe will engage and idle the engine when pressure applied to either the throttle or brake pedal exceeds a calibrated threshold.
Open-wheel phenom Sage Karam is no longer under contract with Chip Ganassi Racing. The search for funding to keep Karam in the No. 8 Chevy Karam has not been fruitful, and with no immediate prospects to drive for CGR, Karam's manager says the team did not renew the 20-year-old's contract.
"The team allowed his option to expire, and they are still very high on Sage, but the opportunities for the team are unknown and the budget for the 8 car is also unknown, so they didn't want to keep him bound with nothing to offer," said Mickey Ryan, who also managed Dario Franchitti and Dan Wheldon.
With few open IndyCar seats for Karam to fill, Ryan has been searching for opportunities that would keep his client busy in 2016. CGR is expected to reduce to three full-time entries next year, and other than KVSH Racing on the Chevy side, and a few options with Honda-powered teams, the young Pennsylvanian could spent the season waiting for seats to open in 2017. A return to CGR in one or more of its racing programs next year is also a strong possibility next year, according to Ryan.
"He's no longer under contract, but we'd like to see if we can put together an Indy 500 program, and to explore other options in the family with Chip for Global Rallycross or sportscars," he continued. "Sponsorship is hard to find, and Sage is only 20. There isn't an open IndyCar seat right now, but Chip is a big believer in him, and 2016 might be a bridge year where we wait to see what opens up in '17."
Karam's pace in CGR's Daytona Prototype was a highlight of the 2014 season (RIGHT), and given a chance to race in IMSA, or GRC, Ryan believes his client needs to remain active instead of wait for nothing other than IndyCar opportunities to unfold.
"At the moment, we're exploring all options and it isn't limited to any team in any series," he said. "I know the Ganassi organization wants Sage racing, from a development standpoint. In this sport, if you're not in a car, you're forgotten pretty quickly. If the [Ganassi] team can put something together, across various platforms, I know he'd love to be there.
"And if he isn't there in 2016 in IndyCar, I think they'd embrace the idea of him continuing to develop himself elsewhere until something comes along. They've been great to Sage, and I know they want to keep working with him. We'll keep working at it until we get somewhere."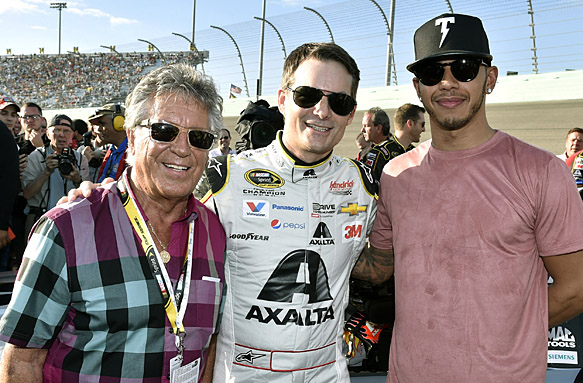 Four-time NASCAR champion Jeff Gordon has downplayed any comparisons with Formula 1 world champions Mario Andretti and Lewis Hamilton.
Gordon was joined by Andretti – who also won the Indianapolis 500 and Daytona 500 – and three-time F1 champion Hamilton before starting his final NASCAR race at Homestead last weekend. After bowing out of the sport with a sixth-place finish, as Kyle Busch secured his first Sprint Cup title, Gordon said he did not consider himself to be in their "league."
"Nobody is in Mario Andretti's league," Gordon said. "That's like a whole other league. I don't think of things like that. I have a lot of respect for other forms of motorsports.
"I was a huge fan of Mario, especially because he ran sprint cars and USAC and knowing he ran stock cars I believe he's the greatest driver of all time, Formula 1, all the things he did. It was so cool having [Andretti and Hamilton] at the car together and getting a picture with them, and Lewis was so cool.
"He was asking a million questions. He wanted to know everything about the cars, the competition, the tires, the track, everything, my steering wheel. He's a racer, and I love that, and Mario was just cool as can be, just, 'Man, go do what you know how to do, you've got this.' That was a great moment.
"I don't necessarily say I'm at their league. I just have great respect for them, and I was happy they were supporting me and being there at the car."
Gordon, who met Hamilton at an NFL Super Bowl, sampled a Williams Formula 1 car on the Indianapolis road course in 2003, in car swap with Juan Pablo Montoya. Eight years later, then with McLaren, Hamilton participated in a similar event with Tony Stewart at Watkins Glen.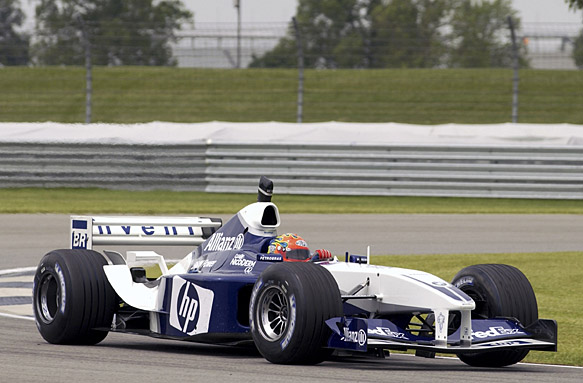 "I've liked Formula 1 ever since I drove the Formula 1 car [LEFT]," Gordon said. "I always have been fond of that sport, and if you asked me what sport do you watch the most besides NASCAR, I'd say Formula 1, then NFL. And so I was already a fan of [Hamilton], and then he went and won the championship, and we just stayed in touch, and then this year I've been in touch with him and cheering him on and just communicating with him.
"I've been trying to get him to come to a race, and it just so happens this was the race that he was able to come to, and I can't think of a better race for him to come to."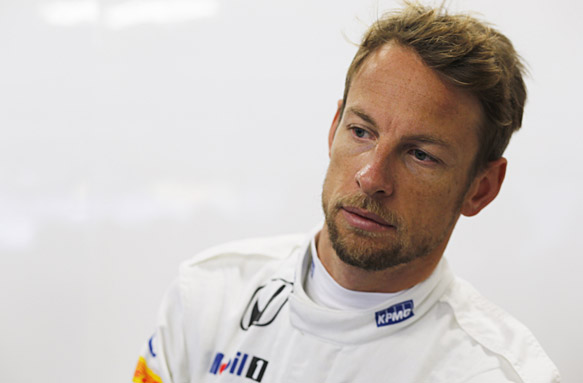 Jenson Button fears a long, difficult winter is in store for McLaren-Honda as it seeks to make the gains needed to return it toward the front of the Formula 1 grid again.
Teammate Fernando Alonso has already suggested it is a realistic target for the team to find the 2.5 seconds per lap he feels is required to become winners and end the longest barren run without a victory in its history, currently standing at 56 races.
The recent Brazilian Grand Prix weekend, however, was another tough one for the McLaren-Honda partnership as the car's lack of pace was again highlighted, with Button suggesting the straightline deficit to its rivals was "scary."
"We knew it was going to be a difficult season, and the last few races in particular have been very difficult," Button said. "It would be nice to see more reliability, and we are trying to push and make good gains because next year is the one that is a lot more exciting for us.
"This year is more of a testing year for us. In some of the races we've done OK in unusual circumstances. But most of the time it has been testing, trying to prove out things with the power unit, and also with the car itself, the chassis, the aerodynamics.
"Every race we have brought new parts, and whether you see them or not in terms of lap time, it is all learning for next year. But it's going to be a long winter, not an easy winter to find the time we need, but a winter we are all looking forward to.
"If we're fighting at the front then we've got to find another two and a half seconds, which is a massive gap. Whether we can do that I don't know, but I know we will make big gains this winter."
Button has confirmed it was the same opinion he formulated ahead of deciding to commit himself to McLaren for 2016, and his thoughts have not wavered since.
"My views haven't changed from just after Japan when I decided I wanted to stay next year," he added. "I wanted to stay because my view is we could have a good year next year. I feel the passion within the team, and how everybody is working well together, be it at Sakura or Woking."
Michael Shank Racing's Ligier JS P2 chassis is eligible to compete in 2017, but the Ohio-based IMSA team has no intentions to use the French prototype beyond next season. The WeatherTech SportsCar Championship's Prototype class will adopt the ACO/FIA's new P2 regulations in 2017, and with his current Ligier already approved to race when the new regulations come into effect, Shank could squeeze two more years out of the JS P2.
However, concerns over the long-term competitiveness of the Ligier, which made its debut in 2014, has Shank leaning toward replacing the JS P2 for a new model once the next WeatherTech Championship season concludes.
"It's a little bit complicated, but when we had the Ralt and the Swift Atlantic cars, and it was a thing where you could keep running the Ralt, but we knew the Swift was coming and I'm of the mindset that the more you hold something off, the more you fall behind," Shank told RACER. "The minute we can jump, we'll jump, and that's what we're going to do with the new 2017 car."
Shank will have four P2 manufacturers to choose from next year. Onroak, which builds the Ligier, Dallara, ORECA, and Riley-Multimatic all won contracts from the ACO/FIA to build 2017 cars, and at present, Shank says no decisions have been made.
"There's nothing concrete there and we're still looking and evaluating; we have some ideas on direction, but the decision is something we'll make next year," he continued. "I hope to have direction in April. We need to be on track in September or October. And the B part to the decision is we know [IMSA] wants us in new stuff, new equipment, so we're going to do all we can to be on track with a new car the soonest we can make it happen."
The early move to a new chassis, as Shank details, is being made to improve MSR's chances in IMSA.
"As we sit here today, I'm not factoring Le Mans in 2017 or 2018 into going to a new car," he said. "It's great to know we can go, and that we'll have one of the restricted chassis you can run in this new formula, but I'm doing this for my team based here in the U.S. today and what I think it will take to win in IMSA. That doesn't mean we wouldn't go to Le Mans with the car, but it was never part of the reasoning."
Shank incurred the expense of replacing MSR's crash-worn JS P2 after the Oct. 3 season finale at Petit Le Mans, and had hoped to purchase a second Ligier to use for a two-car program next year. Based on recent progress, it appears MSR's Honda-powered No. 60 JS P2 will be the team's sole entry in 2016.
"Never say never, and I'd move mountains if someone wanted to come join us in a second car, but right now, we're about 90 percent of being a one-car team," he added. "We're going to focus on what I think is a kickass race-winning program right now with the 60 for Daytona, and we'll see if anything else develops after."
What will you remember the 2015 IndyCar season for? Juan Pablo Montoya's teflon coating wearing off right at the time he needed it most? The introduction of the aero kits, several years after they were first mooted? Rocky Moran Jr.'s inspiring hour of track time at Long Beach?
To try to make sense of it all, RACER's Marshall Pruett, Robin Miller and Mark Glendenning asked each other some searching questions about all of 2015's regulars, which for the purpose of this review, includes anyone who started a minimum of half the races. Look for new installments every Monday, Wednesday and Friday.


SEBASTIEN BOURDAIS
2015 starts: 16
2015 best finish: 1st (Detroit, Sunday race; Milwaukee)
2015 championship position: 10th; 406pts
KV had the chance to sign Justin Wilson as Seb's teammate for 2015. How might Wilson have improved the team's/Seb's fortunes with a proper two-car effort working in tandem?
MARSHALL PRUETT: Good Lord. Imagine Justin, with a dominant Chevy-powered Dallara DW12, at KV, with his longtime friend Bourdais in the sister car for an entire season ...
Wilson's technical feedback would have definitely elevated the team, giving KV's engineers incredible input from both drivers to perfect their setups. And with Justin's dogged racing style, it's easy to picture a few wins coming his way to go with the two Bourdais earned in 2015. Bourdais drove like a man possessed this year, yet settled for 10th in the championship as a defacto one-car operation.
The pairing of Bourdais and Wilson would have made KV the best two-car operation in IndyCar, and I'd wager they also would have pushed the three- and four-car teams to the brink. Together, I have to believe they would have moved KV deep inside the top 10.
Based on potential alone, knowing that Justin was so close to landing the ride, yet lost out to the rolling crashfest known as Stefano Coletti, is incredibly sad. It's sad not only for the big man, but also for how much higher Bourdais and the overall KV operation would have soared with Wilson in the program.
Is Bourdais driving better than ever?
ROBIN MILLER: When everything is right, like it was at Milwaukee, Seb can still be untouchable like he was during his old Champ Car days. But considering KVSH's budget limitations, it's not wrong to think he's driving as well as ever at age 36. And the gauge is qualifying, where made four Fast Sixes and six other showings inside the top 10 in what amounted to a one-car team, since he hardly got much input form his rookie teammate.
On days like Detroit, when he led the final 18 laps, Bourdais reminds us that in IndyCar - unlike F1 - a great driver with the right engineer can still make a difference, and nobody is any better on a street circuit. Winning on an oval was a bonus, of course, but Seabass is always in the conversation when IndyCar goes road racing.

Two wins, 10th in the championship. Realistically, how much more could Bourdais have hoped for?

MARK GLENDENNING: Well he matched Juan Pablo Montoya, Will Power, Ryan Hunter-Reay, Graham Rahal and Josef Newgarden on the win count, so when you put it in those terms, he had a great year. And when you consider the limited resources at KV, there's aren't many names ahead of him in the final standings who look out of place - the usual bunch of Penske, Ganassi and Andretti cars, along with a couple of guys who had breakout seasons.

That said, Bourdais' bad finish to the season did cost him. He was sixth in the points as late as Iowa, but then conceded four spots over the final three races: at Mid-Ohio he was screwed by the yellows, he stuck his car into the fence at Pocono, and earned a penalty for driving into the back of Graham Rahal at Sonoma. If we count two of those three as avoidable, then yes, he could have finished higher up the table than he did. Marco Andretti, Tony Kanaan, Hunter-Reay and Newgarden all overtook him in the points between Iowa and Sonoma. (In fairness, Hunter-Reay picked up both of his wins during that stretch, and there's not much you can do when someone goes on a run like that).

Ultimately though, I'm not sure that the difference between finishing seventh and tenth in the championship is the sort of thing that's going to cause the Frenchman any sleepless nights during the winter. And especially not when there were some real positives to draw from 2015: he and the KV pitwall were flawless at Milwaukee, for example. It was weekends like that where you wondered what the team might really have been able to achieve if it had someone a little stronger in the second car.


Missed one of the earlier reviews? You can go back and read them here:
Subscribe to Racer
Race Cars For Sale
More...
Ted Wenz Lotus Twin Cam, Hewland Mk85 5-Speed. Spare gears, wheels wi...
The RACER Poll
What is the best approach for dealing with rain delays?
Video: The Technology Issue IV
The Technology Issue IV is on sale now. Click here for more information.
FROM THE RACER CHANNEL ON YOUTUBE
Ryan Millen takes it to a different level.

See more than 50 On Board videos.

Honda Racing / HPD Videos
Multiple classes with lots of Honda Grassroots racing including Formula Atlantic, Touring Car, & Formula F.

Like us On Facebook
Twitter Feed